When you make an investment in a quality leather garment or accessory, you want to maintain the beauty for years to come. Here are some suggestions that will help!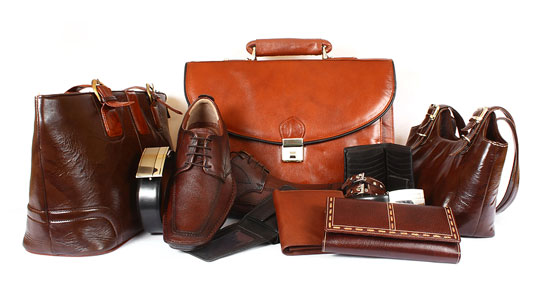 An important consideration for most consumers when buying a leather item is how it will wear and how it will hold up when cleaning is necessary.
Buy from a reputable retailer
Avoid a snug fit - Some relaxation shrinkage can be expected in use and cleaning
Keep it simple - due to the mechanical action, fancy decorations may not stand up to the normal cleaning process
Read the care label and hang tags carefully; watch out for garments that say "spot clean only".
Skin types - choosing the most appropriate skin type to meet your needs:
Painted (smooth) leathers - They are recognized by the opaque finishes that come in any variation of color. These are the easiest style to maintain; spills can be wiped with a soft, damp cloth if necessary. The lighter the color, the more visible stains and soil will be.
NuBucs - Their "nude" skins have a soft natural feel and color; however, they also absorb stains easily. They should be cleaned regularly to avoid set-in stains and soil.
Pig Suede - This is the most common and usually least expensive hide used in apparel and accessories. Pig suede is characterized by the holes left in the skins by the hair follicles. Fillers used to mask these hair holes can be lost during extended wear and in the standard leather cleaning process making the holes more prominent.
Finishes & Colors:
Contrasting light and dark skins may be used in fashion design; however, this can cause a potential problem of dye bleeding during the cleaning process depending on the type of dyes used in manufacturing. A Professional Leather Cleaner may ask for a customer release to clean these items.
Multi-color painted leathers - painted finishes are routinely restored by Professional Leather Cleaners during the cleaning process. However, multi-colored garments that need to be hand-painted will cost much more for refinishing due to the time and expertise needed. A "Clean Only" can be offered, but worn and faded colors will not be restored with just cleaning.
Pastel colors are prone to oxidation which is a change in color due to exposure to UV light. Oxidation in suedes can be masked but not completely corrected. Smooth leather can be refinished by a Professional Leather Cleaner.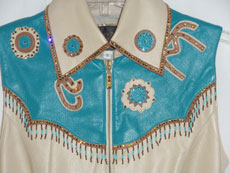 Ornamentation:

Some ornamentation used on leather garments may be prone to damage. Beading, sequins, fragile buttons, certain clasps, and other added ornamentation may require a customer release for cleaning. All ornamentation on a garment is required by the Federal Trade Commission (FTC) to be able to withstand the recommended cleaning process; however, this is not always the case. An experienced Professional Leather Cleaner will be able to identify potential problems and notify you before processing your garment.
Choosing the right storage enviroment is important for leathers and furs.
Choose a dry, cool area out of direct light

- Garments stored in damp basements will attract mold and mildew. Oxidation and sun fading occurs when a garment is exposed to UV light.

Store in a breathable garment bag

if you want to cover the garment. Do not store in plastic which can retain moisture causing mold and mildew.

Cold vault storage facilities

, which are temperature and moisture controlled, are available to protect your most valuable leathers and furs.
There are things you can do to avoid an unnecessary trip to the cleaners.
Stickers

placed on leather can permanently damage the surface of the skins when removed. If you have placed a sticker on your leather garment,

do not attempt to remove!

A Professional Leather Cleaner can safely remove it without damaging the skins. If damage has already occurred, a Professional Leather Cleaner can often mask the damage.

Scarves

worn between you and the garment can help minimize oil build-up and perspiration stains around the neckline.

Rain and wet snow

can leave water marks on unprotected nudes and suedes. Consider using a water repellant on your new garment before it is exposed to the elements. Professional Leather Cleaners can also offer a water-repel-only service.
If your leather becomes wet,

allow it to air dry away

from any direct heat (

Do not put in a dryer!

). Suedes can be lightly brushed with a suede brush when completely dry to raise the nap and minimize water spots.
Pressing your clean garment can be done carefully at home if needed. Using the lowest setting on the iron, press with heavy brown paper between the iron and the leather.

Do not use steam!!

Do not attempt to press your garment if it is soiled. Heat can cause a chemical burn on leather that has been soiled with protein or salt stains. A Professional Leather Cleaner can provide a "press only" service on new garments.
Retail glue products

should not be used

on leathers. Crazy glue and other glues can cause permanent damage to skins.
In general, it is recommended to have your leather garment professionally cleaned by a leather specialist when it shows signs of soil and stains. Allowing soil and stains to set through time and exposure to UV light will make them more difficult to safely clean. When it's time to clean your leathers, make sure you entrust them to someone capable of providing a quality service. Ask the question, "Do you send leathers out to a Professional Leather Cleaner or clean them yourself?" Beware the cleaner that says they can clean leathers themselves! A few dollars saved could mean a ruined garment.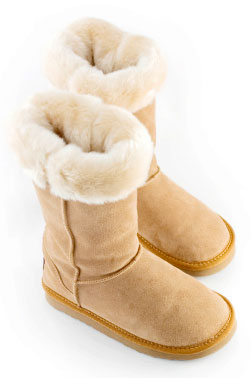 Clean matching pieces of a multi-piece outfit at the same time.

There can be slight color variations when cleaning leather, so even if only one piece is soiled, send all pieces in together.

Tell the cleaner of known stains.

Some substances can cause skin damage if not properly treated. When allowed to remain or subjected to heat, they can cause a chemical burn on the skin. These "burns" are hardened or crystallized areas which permanently damage the skin. A Professional Leather Cleaner should be told if your garment has been stained by any of the following substances so they can be properly pre-treated to avoid damage. If you already have burns on your leather, let your Professional Leather Cleaner know. There are products that can be used to soften and stretch the damaged skin and possibly extend the life of your garments.

Salt (common along hemline of long coats and gloves)
Alcohol and hair products
Milk products including baby formula
Urine